Chester A. Patterson
The Fleischmann House was built for Gustav and Marion Fleischmann in 1927 according to the blueprint designs of Chester A. Patterson, of the New York architectural firm Patterson & Willcox. Mr. Patterson was a nationally known architect whose work and designs were included in publications such as Architectural Forum, Architectural Record, The Architect, House & Garden, Country Life, and many national newspapers. Several of his designs have been entered into the National Register of Historic Places, including Soundview Manor in White Plains, New York, renovations of the Van der Veer - Harris House in New Jersey, the Venezuelan Ambassador's Residence in Washington, D.C., and the Blandford mansion in Florida.
Many of Patterson's designs are tied to the Colonial Revival movement, which gained momentum in the early twentieth century as a reaction against the ornate eclecticism of late 19th-century architecture, and an attempt at rooting national ideals in a nostalgic style. However, while emphasis was placed on simplicity and honesty, advocates insisted that the style did not imply bareness or lack of interesting detail. Architects frequently exercised design interpretations mixing Georgian and Federal styles, sometimes even sourcing inspiration from seventeenth-century motifs. Rather than slavishly reproduce one particular style line for line, detail for detail, Patterson used a combination of architectural elements to create uniquely American designs that are reflective of the period.
The Fleischmann House is a clear representation of these progressive and nostalgic design ideals. Elements such as the slight eave overhang boxed with dentils and the paneled front door with pilasters can be attributed to a more Georgian aesthetic. The side gable roof with moderate pitch, shed dormers, and flared eaves are reminiscent of the Dutch Colonial style, while the porch columns reflect Classical Revival tastes. Even the use of French doors on both the interior and exterior are evocative of colonial-style design elements popularized within the country for which they are named. This freedom of interpretation and inspiration defines the Colonial Revival style, and Patterson's portrayal of the aesthetic at the Fleischmann House indicates his familiarity and mastery of the style.
Records of Patterson's projects show an active 30-year practice as both an architect and developer from the 1910s to the 1940s, and he is credited with a number of suburban houses primarily in the tri-state region of New York, New Jersey and Connecticut. A list of his published projects was compiled in 2007 by Ann M. Keen, Architectural Historian for Farewell Mills Gatsch Architects, LLC. The list of projects includes each client's name, the location of the building, and the publication in which it was originally cited, as follows: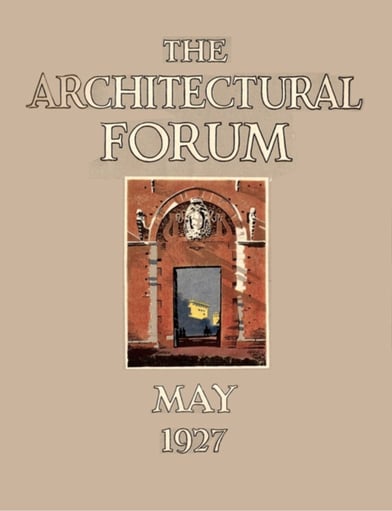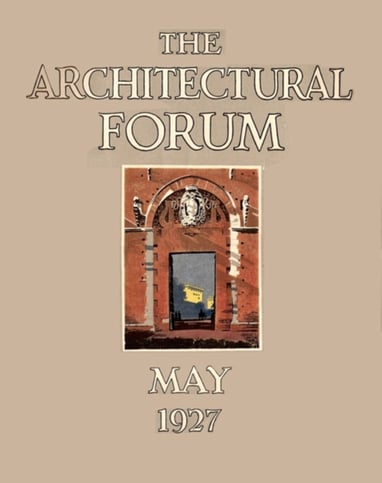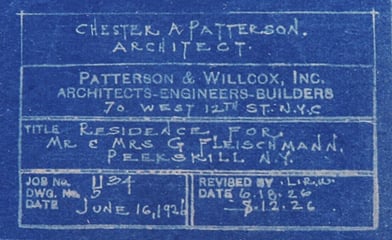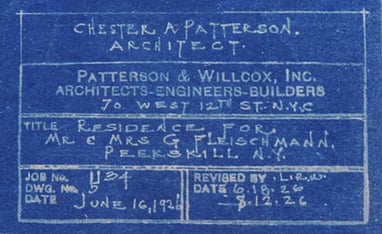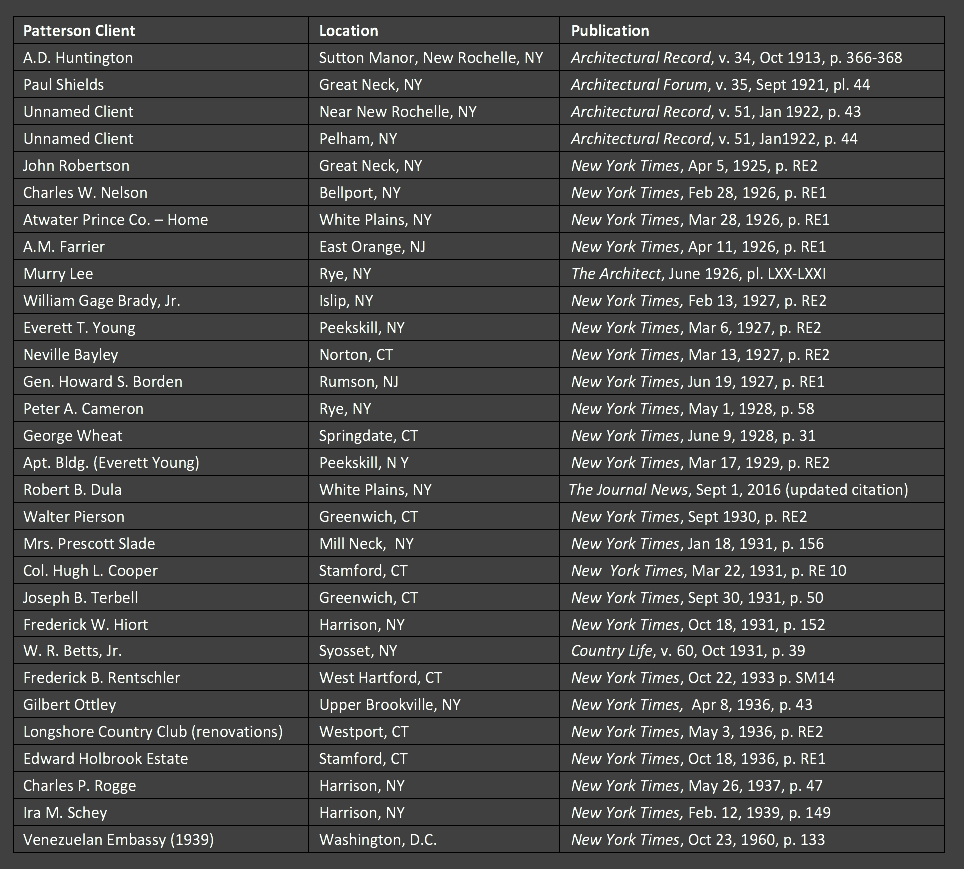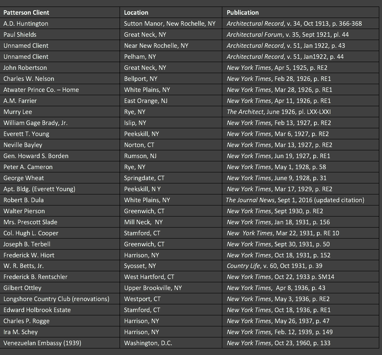 Architectural Forum Magazine
For additional historic information, visit the tabs at the top of this page.